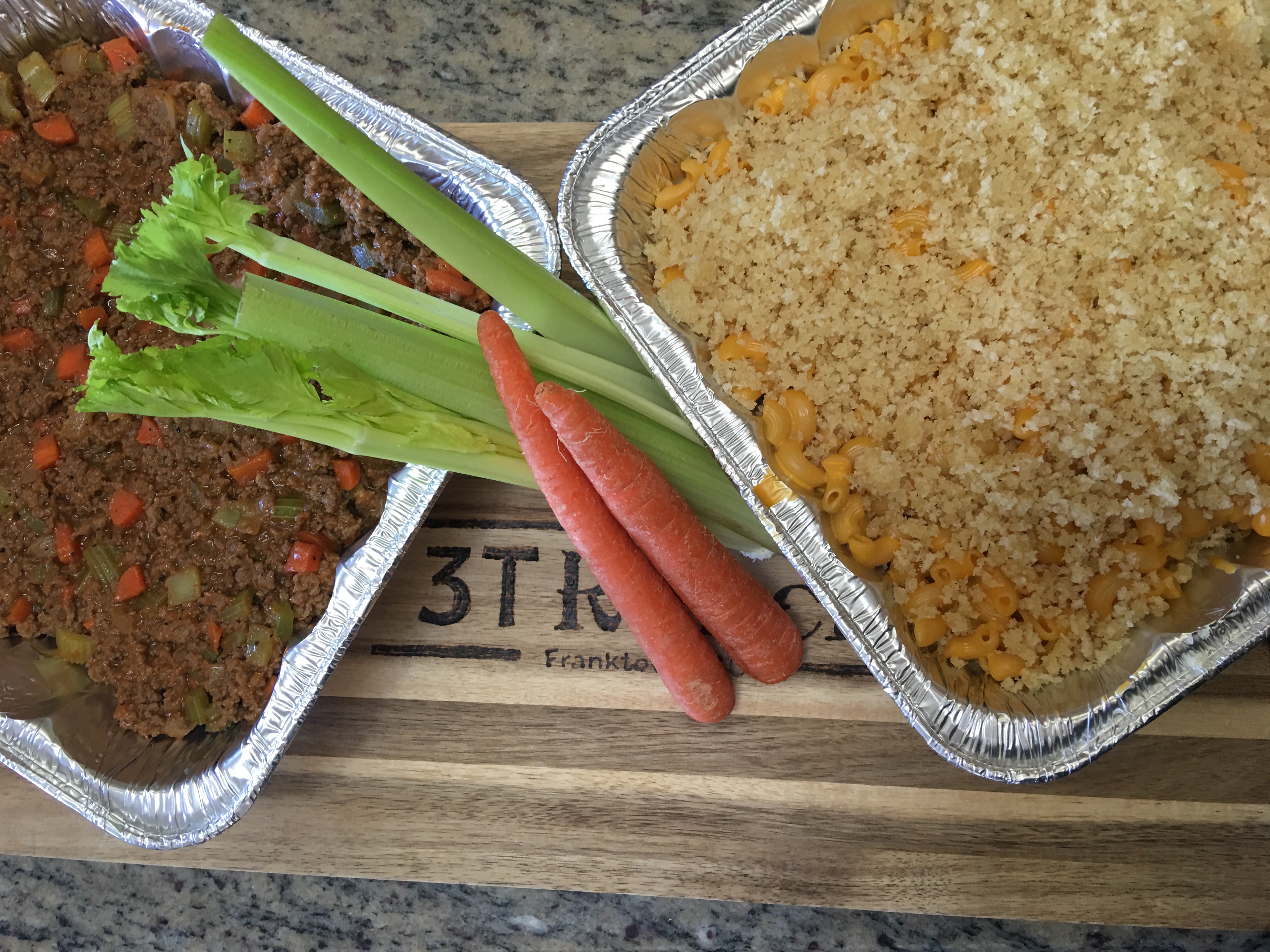 This recipe is so good that I have made it twice in two days. It is a hit with adults and children. I have made the first batch for a fun nail party my friend invited us to. Doing your nails is a lot of work and the ladies enjoyed a small slider Sloppy Joes treat afterwards. My second batch was for my friend who just had her third baby girl. I love my MOPS mamas, what a great way to connect with other moms in the area and make life long friends. Our family has sure appreciated when our friends showed up with a warm meal when our children were babies. The Cowboss didn't have to cook for weeks even though he was on the cooking duties, so I could tend to our little rascals. I'm always happy to bring a meal to a friend and check out their new bundle of joy.
Sloppy Joes on a toasted bun is always a winner of a dinner. Our two little guys are not that coordinated yet to eat the Sloppy Joes on a bun, so I mix up the cooked beef mixture in their homemade mac and cheese. They can "skillfully" work the fork. 😉
Ingredients:
2 lbs 3T ground beef
2 cups chopped up celery or green peppers are great as well
1 cup chopped up onion
1 cup chopped up carrots
1 teaspoon salt
1 teaspoon pepper
1 tablespoon ground mustard
1 tablespoon garlic powder
1/2 tablespoon Lowry's Garlic Pepper Seasoning (optional, this is our 3T staple seasoning)
2 tablespoons of yellow mustard
1 cup ketchup
1 to 2 tablespoons brown sugar (Taste it first after the first tablespoon. We have liked the savory version with just one tablespoon, but some people like the sweeter version)
1 teaspoon Worcestershire Sauce
2 – 3 tablespoons Canola oil
Directions.
Cut up your veggies.
Heat up your good size pot and put in 2 tablespoon of oil.
Saute veggies for about 5-10 minutes.
Include the another tablespoon of oil and stir in the ground beef. Stir for 5 minutes.
Time to put in the seasoning – salt, pepper, ground mustard, garlic powder, Lowry's, yellow mustard, ketchup, sugar and Worcestershire Sauce.
Stir to combine all of the ingredients and let it cook for another 10 minutes. Keep stirring.
Time to serve it up on a toasted bun with homemade mac and cheese.
How easy wast that?! Dobrou chut!