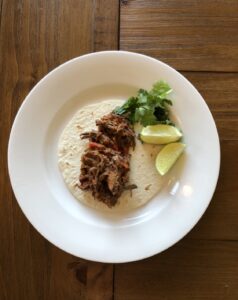 Are you an Instapot user yet? This is my "go to" gadget these days. I use it at least three times a week. It saves time, but I really like how it cooks the beef. All of the beef cuts are nice and tender in a nick of time.
It seems like we went from summer to winter this year in one day. We are finishing up a few ranch projects before the Cowboss and the Top Ranch Hand bring the cows home. The cows have been enjoying the summer pastures and around Thanksgiving, we bring everyone home. During the winter we feed hay and yes.. even on those snowy cold days when schools and business are closed.. we venture outside to feed our herd. Then, spring rolls around and we keep a tight watch on the mama cows to make sure that we have healthy calves and healthy mamas. In early May, we load up the mamas, calves, yearlings and take them again to our summer pastures. The bulls have to wait until June 19th. Cows are pregnant for 9 months and by releasing the bulls on June 19th, we make sure that we don't have any winter calves. That's how the cycle goes on our ranch.
The Mexican Street Tacos are perfect for a busy night. You can get the dish prepped in less than 5 minutes and let it cook while you finish up your chores or homework or like us, finish setting up concrete forms.
Ingredients:
3-4 lb round roast or 1-2 round steaks (depending on size)
1 teaspoon of salt
1 teaspoon of pepper
1/2 onion – sliced
1 red pepper – sliced
1 can (10 oz.) whole green chile peppers (no liquid)
1 can (7.76 oz.) La Costena Chipotle Salsa (you can find it by the enchilada sauces at the grocery store)
1 cup of water
1 bunch of cilantro
Directions:
If you are using a round roast, quarter the roast, this will ensure that your roast will be tender and cook faster.
If you are using round steaks, just put the cuts into the instapot.
Beef is in the instapot, now salt, pepper, onion, green chile and red peppers go in.
Pour Chipotle salsa over the meat.
Pour 1 cup of water around the beef. You want the Chipotle salsa to say on top of the meat.
Seal per instapot instructions and cook for 60 minutes on the "meat/stew" setting for round roast and 45 minutes for round steaks.
When cooking is complete use slow release.
Shred the beef and the green chile peppers and put back in the instapot, so the beef can absorb the tasty sauce!
Serve with tortilla, shredded cheese, chopped up cilantro and rice.