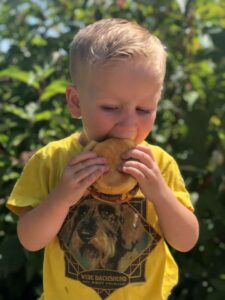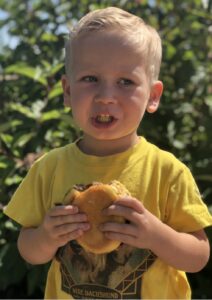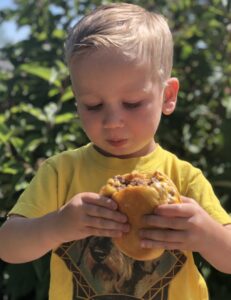 We love cheeseburgers, weekly dinner for our family. In the summertime, we grill and enjoy a nice evening on our patio. The Cowboss is a pro! The rest of the year, I cook our cheeseburgers inside in my cast iron skillet. Low and slow is the key, on the grill as well as when cooking with the cast iron skillet.
Why are our cheeseburgers the best? Grassfed beef has many health benefits, but also a delicious flavor that gets enhanced by Dijon Mustard. That is our secret ingredient when making cheeseburgers!
We hope you will give this recipe a try!
Ingredients:
1 lb 3T ground beef
1 teaspoon salt
1 teaspoon pepper
1 tablespoon Dijon Mustard
4 slices of Cheddar or PepperJack Cheese
Directions:
Mix ground beef, salt, pepper and Dijon Mustard.
Form 4 patties.
TIP – make a round indent in the middle of the uncooked patty, so your burgers stay flat.
Grill or cook in the cast iron pan on low and slow.
Select your choice of cheese. The kids will always vote for Cheddar, but the cowboys love PepperJack.