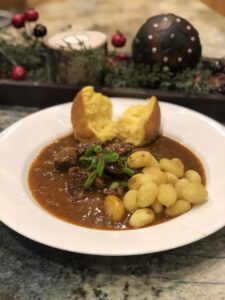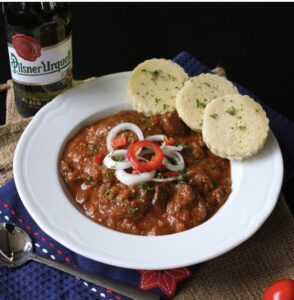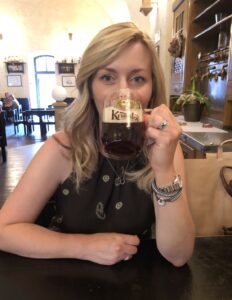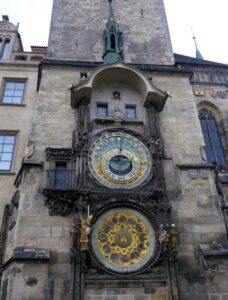 Gulas is a traditional dish in the Czech Republic. Every pub or restaurant that you go to has their own unique version. Often is is served with "Knedliky" (bread dumplings) or freshly baked bread along with their amazing beer! (Which by the way, you can purchase in the U.S. as well, most of the liquor stores will carry Pilsner Urquell, Budvar or Staropramen).
Last year, I was lucky enough to take a quick trip to the Czech Republic and meet up with my family, visit beautiful castles, cathedrals, eat gulas and as you can see from the photos, I have enjoyed their amazing beer as well. A visit to the Czech Republic should be on your bucket list!
When I got home, I had to recreate gulas for my family and it has been added to our dinner rotation list. The bread dumplings are little bit hard to make, so we substitute with sautéed gnocchi. There are a couple of Czech restaurants in the Denver area and they do sell already made bread dumplings.
I hope you will try this recipe and also visit Prague along other beautiful cities and towns in the Czech Republic.
Ingredients:
3T Ranch Rump Roast (about 3-4 lbs), cut up into one inch cubes or stew meat
1 tablespoon of Hungarian paprika (see note)
1/2 tablespoon of salt, pepper, cumin, oregano, chili powder, garlic powder, onion powder
3 tablespoons of corn starch
32 oz of beef stock (you can also do 1/2 beef stock & 1/2 Czech beer)
1 onion – thinly sliced
1 green pepper – thinly sliced
3 garlic cloves – minced
1 heaping tablespoon of tomato paste
2-3 tablespoons of canola oil
Directions:
Cut up your rump roast. Pat dry with paper towel.
Mix the spices except paprika with corn starch. (You will be adding paprika once the beef cubes are sautéed as adding the paprika too early can make the dish bitter).
Drench the beef in the spice and corn starch mixture. Shake off excess.
Turn the instantpot on the sautéed mode and brown your meat in one tablespoon of oil . At this point, you don't want to cook the meat, just give it a nice color. Maybe 30 seconds on each side. Don't overcrowd your pot, brown the meat in batches.
Take our the meat out, pour in another tablespoon of oil and saute the onion and pepper until translucent, put in minced garlic and cook for another 30 seconds. Turn off your saute mode on the instantpot.
Put the meat back along with the veggies and stir in one tablespoon of tomato paste and 1 tablespoon of paprika. Stir only for 30 seconds.
Pour in beef stock or 1/2 beef stock 1/2 Czech beer liquid combo, stir to combine the beef, the veggies and the liquid.
Close and seal the instanpot lid and set manual pressure for 30 minutes, natural release.
Once the beef is cooked, you can thicken the sauce (if desired) with 2 tablespoons of cornstarch and 1/2 cup of the sauce. Pour back in the sauce to thicken. I typically do that while the instantpot is on the saute mode for a couple of minutes or until the sauce thickens.
I like to serve gulas with gnocchi. Use a large cast iron skillet, heat it up and put in two tablespoons of grassfed butter along with gnocchi. This way, the pasta will have a nice crunch, yet soft in the middle. Cook and stir for about 10 minutes.
And as they say in the Czech Republic – Dobrou Chut – Bon Appetit