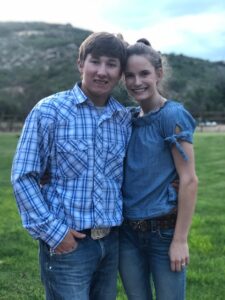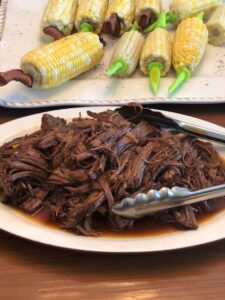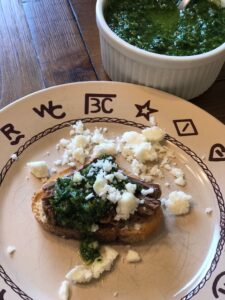 We love our summer Saturday dinners with family and friends. We have recently hosted Luke's Karissa and her mom for a tasty dinner at the 3T. If you think beef roast is only good on cold snowy days, think again! Our BBQ Beef Roast was a hit and we had no leftovers. Nothing makes me more happy than people going for second serving of food!
Karissa has been helping on the 3T all summer long. We are so glad Luke found a match that is not afraid of hard work during our hot summer days. They have fixed many miles of fence together, helped with branding and sorting calves, played with our two little people, so the ranch mom can get some work done.. But don't worry, they also had plenty of times for riding the horses and relaxing!
We have sure enjoyed our summer dinner and I thought I would share these recipes with you as they were easy, tasty, but most importantly I didn't spend all day in the kitchen!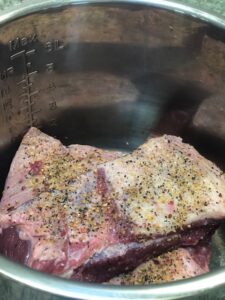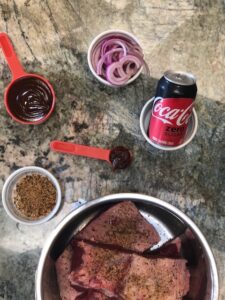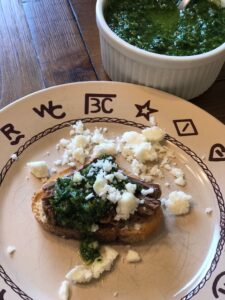 BBQ Beef Roast
Ingredients:
3T Ranch roast – I have used brisket, but you can also use Chuck, Tri-Tip, Sirloin Tip, Eye of the Round, Round roasts or Round steaks

our roasts are typically 3-4 lbs

1 cup of your favorite BBQ sauce
1 cup of Coke
1 tablespoon of Chipotle in Adobe Sauce

use just the sauce, not the peppers
you can also use Chipotle Sauce

1/8 cup of Weber Chicago Seasoning
1 red onion – thinly sliced
Directions:
For this recipe, I used InstantPot to save time!
Cut the roast in quarters, it cooks more evenly and faster.
Sprinkle 1/8 of a cup of Weber Chicago Seasoning all over the roast.
Mix BBQ sauce, Coke and Chipotle Sauce.
Put the roast and onion in the InstantPot and pour over your liquid mixture.
Lock the lid and move the pressure valve to sealing and set your InstantPot on Manual "High" for 60 minutes.
When pressure cooking is complete, allow the pressure to release naturally for 15 minutes, then release the remaining steam by moving the pressure valve to venting.

If you are using round steaks, your cooking time will be only 45 minutes, release naturally for 15 minutes.

At this point I check on the beef to see, if it needs additional cooking. Brisket and Round Roast will need additional 15 minutes on Manual "High". Again, release naturally for 15 minutes. Other roasts should need only 60 minutes depending on the size of your roast.
Take out the beef roast, trim any fat and shred the beef into bite-size pieces.
Put your shredded beef back into the InstantPot, so it can soak up all of the delicious sauce. I typically, turn on the saute mode (no lid) and cook it for additional 5 minutes to heat through the beef.
Now it is ready to serve!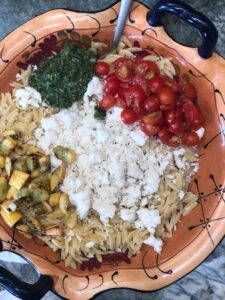 Orzo Pesto Summer Salad 
Ingredients:
16 oz Dellalo Orzo – use only 2/3 of the box
1/8 cup of homemade or store bought pesto
1 small yellow squash – cut up
1/2 cup of Queso Fresco – crumbled
Handful of cherry tomatoes
Directions:
Cook orzo per box directions.
Saute yellow squash. (Sauted red onion would be also good in this recipe).
Cut up your tomatoes, crumble your cheese.
Put orzo in a big bowl, stir in pesto, cheese and veggies.
Keep it in the fridge until you are ready to serve.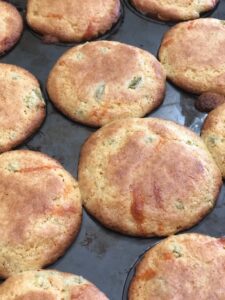 Jalapeno Cheddar Corn Muffins
Ingredients:
2x Jiffy Corn Muffin Mix
2/3 cup of milk
2 eggs
2/3 cup of Cheddar
1/8 cup of chopped pickled jalapeno
Bake per directions on the box.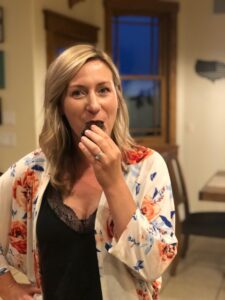 Karissa's Out of This World Brownies
Here is a link to the recipe:
https://www.foodnetwork.com/recipes/giada-de-laurentiis/almond-butter-brownies-8830400
We had a wonderful evening, we hope you will try some of our recipes!