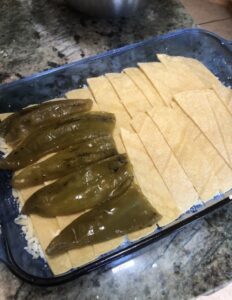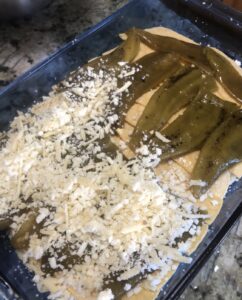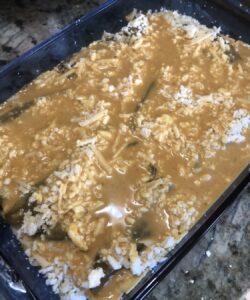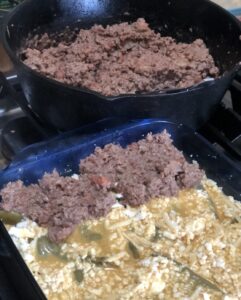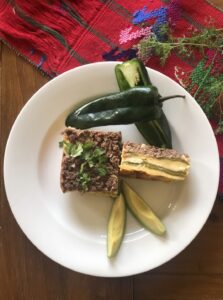 My garden is in full swing and I can't wait to have my own garden peppers later this summer. In the meantime, canned green chilies will have to do for this dish. My green house got destroyed by the wind earlier this spring. It was so sad to see as there was no way we could repair it. New green house would take several weeks to arrive and get assembled and my little pepper and tomato plants needed to be transplanted into bigger pots, so they would have enough time to grow and mature to produce amazing vegetables. Technically, tomatoes are fruits, but by culinary classification tomatoes are vegetables.
The Cowboss made me a temporary shelter for my plants, so they wouldn't get destroyed by the harsh sun and wind. He used plexiglass and fence posts to create a little temporary green house and moved all of the plants under the awning of our barn. Sure miss my green house, but the plants are happy and growing. And as I found out, my shelter is also safe from nosy critters like our horses, who are grazing the pasture by the barn and were intrigued by the new structure. Nope, these plants are not for you four-legged friends.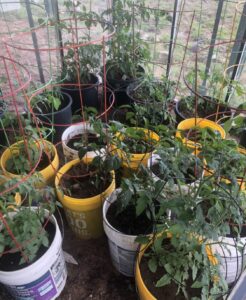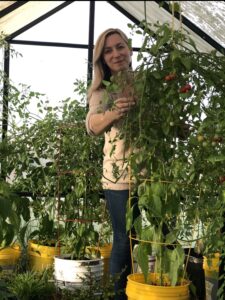 Now, let me get to this recipe. We love love chile relleno, but it is hard to make and the deep fryer always makes a mess. This version is much easier and faster to make! This dish is also great for potluck as it makes a lot! You can feed a crowd for sure.
Ingredients:
27 ounces green chillies – whole
16 ounces refried beans
1 1/2 pounds 3T ground beef
1/2 onion chopped
3 garlic cloves chopped
1 teaspoon salt
1/2 teaspoon pepper
10 oz Queso Fresco cheese shredded
1 1/2 cups Pepperjack cheese
15 corn tortillas cut into 1 inch wide strips
Topping:
4 ranch fresh eggs
1/4 cup flour
1/2 cup evaporated milk
1/2 teaspoon cumin
1/2 teaspoon chili powder
1/2 teaspoon garlic powder
1/2 teaspoon onion powder
Directions:
Heat oven to 375 degrees and grease 9×13 baking pan.
Mix eggs, flour, evaporated milk and all seasonings.
Mix Queso Fresco and Pepperjack cheeses together.
Brown ground beef with onion and garlic. Remember to add the garlic just before the meat is cooked, so you wouldn't burn the small garlic pieces. Season with salt and pepper.
Add refried beans to the pan and cook until all mixed together.
Cut tortillas into 1 inch wide strips.
Place 1/2 of the strips on the bottom of the baking pan.
Layer 1/2 of the can of green chilies (whole) over the strips.
Layer 1/2 of the cheese and then another layer of tortillas, then layer of green chillies and the remaining 1/2 of the cheese.
Pour egg mixture topping over the top.
Spread ground beef and beans over the egg mixture.
Cover with aluminum foil.
Bake for 30 minutes and then remove the foil and bake for another 15 minutes.
Serve with guacamole and Mexican crema.