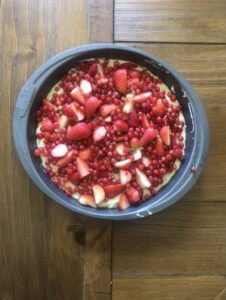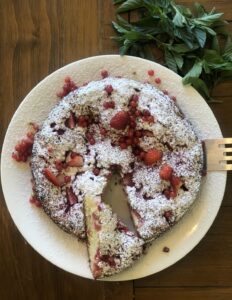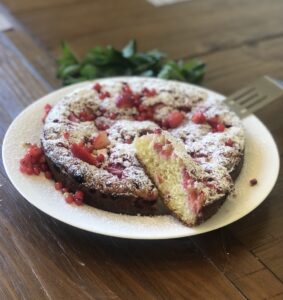 Have you tried red currant berries before? It is native across Europe and great for jams and light summer cakes. My grandparents had many red currant bushes in their garden and I remember picking them as a little child. My grandma or as we called her "babi" baked many of these wonderful light cakes – "bublanina". You can use any fresh fruit you have, it always turns out airy and tasty.
Saturday afternoons at my grandparents' house were always reserved for visits from the neighbors and you could count on that this cake would be served along with hot coffee, yes.. even in the summer time. So, as I'm sitting here on Saturday afternoon, typing up this recipe and enjoying my own version of her cake, it sure brings many wonderful memories of my grandparents.
I have ordered the red currant shrub for my garden a few years ago and the very next year it was producing fruit. The berries are known as super fruits as they have naturally high antioxidant capacity and they also have a good supply of vitamin C and K, manganese and potassium.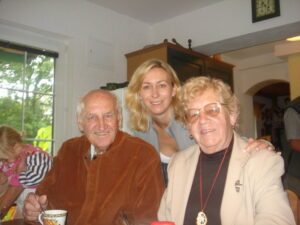 Ingredients:
1/4 grassfed unsalted butter
1/2 cup plus 1 tbl granulated sugar
1 farm fresh egg
1 teaspoon vanilla extract
1 cup flour
1/2 teaspoon baking soda
1/2 teaspoon baking powder
1/4 teaspoon salt
1/2 cup milk
1/2 tablespoon apple cider vinegar
2 cups of fresh or frozen berries of your choice (I have used strawberries and red currants from my garden)
Instructions:
Preheat oven to 400 degrees.
Grease and line with parchment paper 9-inch round cake pan.
Mix milk and apple cider vinegar and let it sit.
Beat together butter and 1/2 cup of sugar for 2 minutes.
Beat in egg and vanilla.
In a separate bowl, sift together flour, baking powder, baking soda and sat and add to the bowl with butter and sugar. Gently stir a couple of times.
Gradually pour in the milk and vinegar mixture that just turned into buttermilk, stir until incorporated, don't over mix.
Spread batter evenly into the pan.
Evenly arrange fruit over the top of the batter.
Sprinkle 1 tablespoon of sugar.
Bake 25 minutes. Remove from oven and let it stand 10 minutes before serving.
Sprinkle with powdered sugar and some leftover fresh fruit.