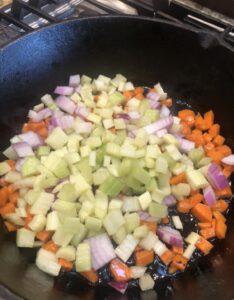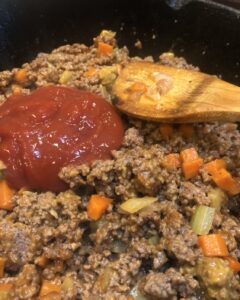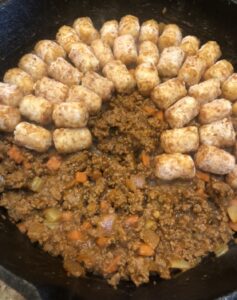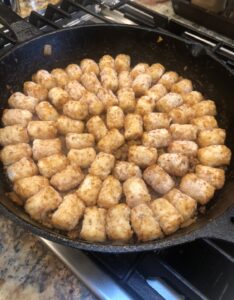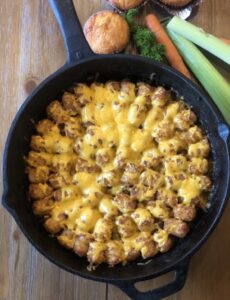 When cooking for cowboys and kids, I always whip up the Cowboy Casserole. Plenty of veggies, but they stay hidden under the cheesy and crunchy tater tots that the kids love. Great for a quick summer dinner.
Ingredients:
2 lbs 3T ground beef
2 cups chopped up celery or green peppers are great as well
1 cup chopped up onion
1 cup chopped up carrots
1 teaspoon salt
1 teaspoon pepper
1 tablespoon ground mustard
1 tablespoon garlic powder
1/2 tablespoon Lowry's Garlic Pepper Seasoning (optional, this is our 3T staple seasoning)
2 tablespoons of yellow mustard
1 cup ketchup
1 teaspoon Worcestershire Sauce
2 – 3 tablespoons avocado oil
1 bag of tater tots
1 cup shredded Cheddar cheese
Directions:
Heat up oven to 400 degrees.
Cut up your veggies.
Heat up your good size pot/oven safe and put in 2 tablespoon of oil.
Saute veggies for about 5-10 minutes.
Include the another tablespoon of oil and stir in the ground beef. Stir for 5 minutes.
Time to put in the seasoning – salt, pepper, ground mustard, garlic powder, Lowry's, yellow mustard, ketchup and Worcestershire Sauce.
Stir to combine all of the ingredients and let it cook for another 10 minutes. Keep stirring.
Arrange tater tots in circles over the meat mixture.
Bake for 25 – 30 minutes or until tater tots are cooked and crisp.
Sprinkle with shredded cheese and bake additional couple of minutes or until melted.