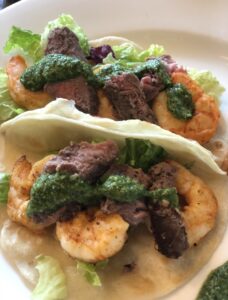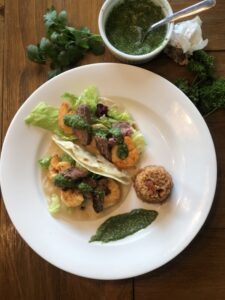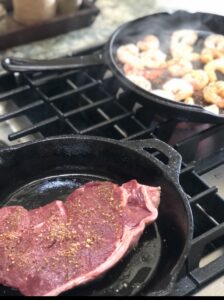 Grassfed Sirloin steak and shrimp tacos. Our crew loves this dinner. I made homemade chimichurri sauce to go with all of this deliciousness. What is chimichurri? It's and Argentinean sauce or condiment, similar to pesto, that is popular throughout South America. I have used parsley and cilantro to make this sauce. I love making chimichurri during the summertime. My parsley and cilantro are growing like crazy in our garden and I love the freshness of the herbs.
I have recently discovered taco size uncooked tortillas. WOW! Definitely add them to your list next time you go to the grocery store.
Ingredients:
1 packed cup parsley (chop it up after you measure it)
1 packed cup cilantro (Chop it up after you measure it)
6 cloves of garlic
1 tbls red wine vinegar
1/4 cup of olive oil plus additional 2 tbls
1 small grated shallot
salt and pepper to taste
Directions:
Measure the herbs and give it a rough chop.
Now, the easy part. Put all of the ingredients into the food processor, except the 2 tbls of olive oil.
Pulse and pour in an additional 1 tbls of olive oil if necessary. You can add one more. This really depends on how much you have packed the measuring cup.
Chill in the fridge for 30 minutes before serving.