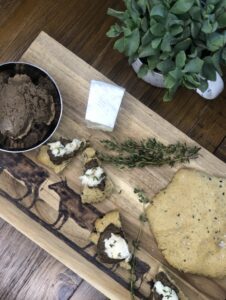 Impress your guests with a new appetizer! Grassfed Liver Pate is amazing and very healthy!
Ingredients:
1 pkg 3T Ranch Liver (typically around 1 lb)
2 tbls avocado oil
1 finely chopped shallot
4 finely chopped garlic cloves
1/4 cup of red cooking wine (Holland)
2 sprigs thyme – just leaves
2 tbls grassfed butter
2-4 tbls heavy cream or milk
salt & pepper to taste
Directions:
Defrost the liver.
Heat up cast iron pan and put in avocado oil.
Cut up liver into chunks.
Cook liver over medium heat for about 5 minutes, put in shallot, garlic and thyme. Do not season at this time. The salt would make the liver tough.  Cook the liver all the way through.
Deglaze the pan with the red wine. Cook for additional couple of minutes.
Salt and pepper to taste. (It will need good amount of salt).
Put all of it into the food processor along with 2 tbls butter and 2 tbls heavy cream and pulse until smooth. (If your mixture is still too think, pour in additional 2 tbls of heavy cream. Heavy cream works better in this recipe than milk. It will make your pate creamier).
I have served the liver pate on homemade crackers with softened blue cheese and couple of thyme leaves for color.