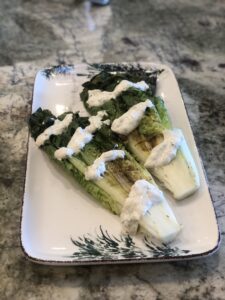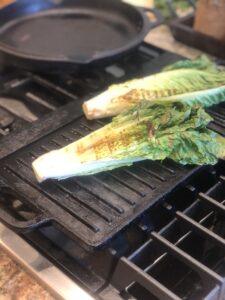 Have you tried grilling your lettuce yet? If not, you are missing out! Grilled romaine hearts are delicious and will impress everyone at your next dinner party. This dish is also very quick and can be served with grilled steak as a light lunch or dinner. Homemade ranch dressing with herbs will make you ditch the store-bought one for sure!
Ingredients:
4 – 6 romaine hearts washed and dried
1/2 cup mayonnaise
1/2 sour cream
1 teaspoon apple cider vinegar
1 teaspoon Worcestershire sauce
4 garlic cloves, chopped or even better use garlic press
2 tablespoons dill, chopped (chives would be also great)
2 tablespoons parsley, chopped
Salt and pepper to taste
1 tablespoon avocado oil for grilled the romaine hearts
Directions:
Make your dressing first, so it can develop the flavors.
Mix mayo, sour cream, vinegar, Worcestershire sauce, herbs and salt and pepper. Cover and put it in the fridge for 30 minutes.
Heat up your grill or stovetop griddle.
Lightly brush the cut sides of the romaine with avocado oil.
Place the romaine on the grill/griddle cut-side down and cook until grill marks form and the leaves are slightly charred. About 1 to 3 minutes.
 Drizzle the romaine with the dressing.