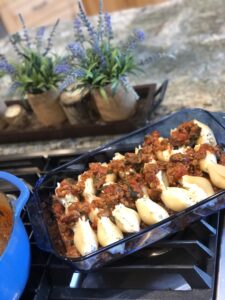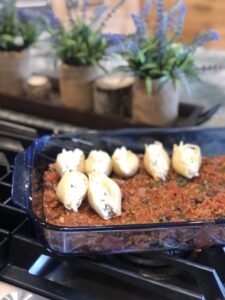 I like to meal plan and keep track of our favorite recipes. Stuffed Jumbo Pasta Shells are definitely on the monthly dinner rotation list. Easy, even after a long day of work, it doesn't take that long to put it together. Meal planning keeps me on track and I don't over spend at the grocery store. Every Sunday afternoon, I sit down at my desk and create a menu for the week. I meal plan for lunches and dinner since school is over and all of the kids are at home for the summer.
Stuffed Jumbo Pasta Shells are always a hit. Early in the week I make our favorite No Sugar Marina Sauce. This batch of sauce will be enough for this recipe and pizzas later in the week. It is worth it to prep it ahead of time. If you don't have time to make our sauce, store bought marina sauce is ok too. Just make sure to read the label and get the kind that doesn't have any extra sugar added.
Meal planning makes it easy to decide on dinner after a long day of working the cows, weeding the garden or the never ending fencing chores. So, here you go!
Ingredients:
For the Shells
1 box of Jumbo Pasta Shells (American Beauty 12oz)
15 oz Ricotta cheese
1 egg (room temperature)
1 cup shredded Mozzarella
1/2 shredded Parmesan
1/4 chopped up parsley
For the Sauce
1 lb 3T ground beef
2 jars of marinara sauce or 1/2 of our No Sugar Marina Sauce
1 tbls Italian seasoning
2 chopped up garlic cloves
salt and pepper to taste
2 tbls fresh chopped up basil
Optional items to include in the sauce
2 cup of fresh spinach
1 cup of fresh mushrooms
Directions:
Preheat oven to 350 degrees.
Boil water and cook shells per package directions and let them cool.
Mix Ricotta, Mozzarella and Parmesan cheeses along with egg and parsley.
Cook ground beef, include garlic. (Wait to include the garlic until the beef is almost done cooking to prevent burning it). Mix with the sauce and let it simmer for 10 minutes. Stir occasionally. Stir in basil.
Optional: sauté mushrooms and spinach for about 5 minutes and put into the sauce. 
Pour in 1/2 of the sauce in 9×13 cooking/oven dish.
Stuff the shells with the cheese mixture, about one heaping tablespoon each.
Lay the shells in the sauce and pour the remaining sauce over them.
Cover with aluminum foil and bake for 30 minutes.