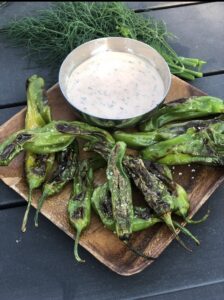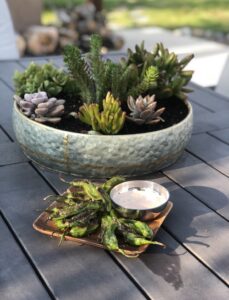 Have your tried Shishito Peppers yet? All of the Food Network Stars were cooking with this little pepper all last year, yet I couldn't find them in the grocery store. I was excited when this spring, I have found Shishito Peppers seeds at Home Depot. Fingers crossed, later this summer we will have homegrown Shishito Peppers from our garden. To my surprise yesterday, the grocery store had these little peppers available for the first time! I even texted the Cowboss the photo of them from the grocery store. Hey, when you love cooking and your long awaited item is in stock, you get excited. 😉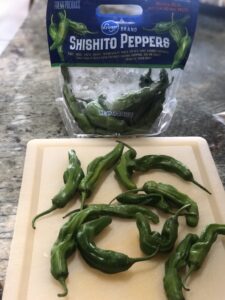 I had already planned to have burgers for dinner, so I thought, this would be the perfect side to go with it. The key to tasty Shishito Peppers is to blister them and serve them with an amazing dip.
Even though, the cowboys worked outside all day, they have agreed to grill the burgers for me and eat outside. When you are a cowboy and you work all day outside, you are really looking forward to having dinner inside, where the cool breeze comes from the air-conditioning. But, I was able to talk them into eating on the patio as it was a cool evening with no wind.
The Cowboss grilled the burgers to perfection. You ask what is the secret to our amazing burgers? Well, I will share it with you!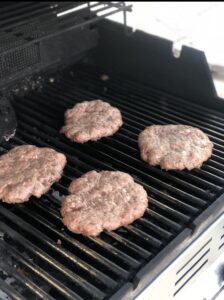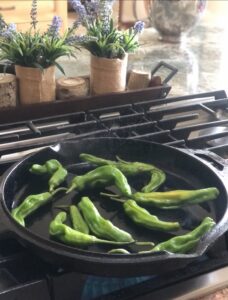 3T Ranch Burger Tips: mix 1 teaspoon of salt and 1/2 teaspoon of pepper and 1 tablespoon of dijon mustard with our ground beef and then make patties. (We also like the Weber Chicago Steak Seasoning for our burgers). Now, heat up your grill and once the burgers hit the grill turn it to low heat and cook for about 5 minutes per side.
In the meantime, while the Cowboss was tending to his grill, I made my Blistered Shishito Peppers.
Let me tell you, it was a hit! Even with the little guys. The Shishito Peppers are mild in spice, but watch out 1 in 10 can be spicy! Good thing we like spicy!
The kids and I loved the peppers and dipping them into the tasty sauce. The cowboys put the Shishito Peppers on their burgers along with onion rings. Clearly, it was delicious as I didn't even had a chance to take pictures. Eaten in no time!
Ingredients:
1/2 bag of Shishito Peppers (about 13)
1 tablespoon avocado oil
Salt and pepper to taste
Dip:
1/4 cup of mayo
2 teaspoons of lemon juice
1 tablespoon of no sugar ketchup
4-5 minced garlic cloves (Use garlic press, if you have it. You really want it minced).
1 tablespoon of fresh dill – finely chopped
Salt and pepper to taste
Directions:
Heat up a large cast iron pan.
Pour in one tablespoon of avocado oil.
Cook peppers, turning occasionally, until they begin to blister on all sides. (about 5 -7 minutes)
Sprinkle with salt and pepper right away.
Dip:
Mix all of the dip ingredients and put in the fridge for at least 10 minutes to intensify the flavor. Fresh dill really makes this dip.