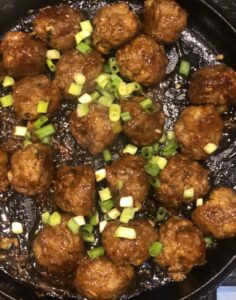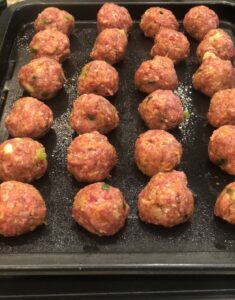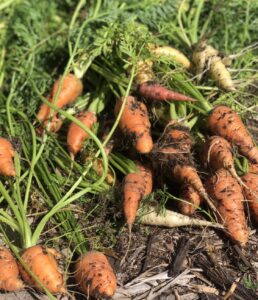 Who doesn't like meatballs, right? Another great recipe for picky eaters, where you can sneak in veggies without them ever knowing! Carrots are in season and we have planted a lot of them! The purple carrots are sure fun to eat!
Ingredients:
1 lb 3T Ranch grassfed/grass finished ground beef
1 cup Teriyaki sauce – divided – Kinder's Marinade & Sauce
1/2 cup of shredded carrots
4 garlic cloves chopped
3 green onions chopped
1 tablespoon grated ginger
1/2 small onion chopped
1 & 1/2 cup of Panko breadcrumbs
1 egg
1 teaspoon salt & 1/2 teaspoon pepper
Directions:
Preheat the oven to 325 degrees.
Sauté shredded carrots, garlic, green onions, ginger and onion until translucent. TIP: if your veggies are browning too quickly, you can pour in 1/4 cup of water to continue sautéing the veggies. I use this trick all the time.
Let the vegetables cool down.
In a mixing bowl combine your sautéed vegetables, egg, ground beef, 1/2 cup of teriyaki sauce and breadcrumbs. Don't forget salt and pepper. Gently mix it all to combine, you don't want it to over mix it.
Use small ice cream scoop to measure out your meatballs, so they bake evenly.
Spray baking sheet with cooking spray and load up with meatballs.
Bake in the oven 20-25 minutes.
Once your meatballs are out of the oven, put them in pan and pour over the remaining 1/2 to 1 cup of teriyaki sauce. Just depends on how much sauce you would like.
Serve with fried rice and sprinkle with some extra green onions for color.
We hope you will try our recipe!