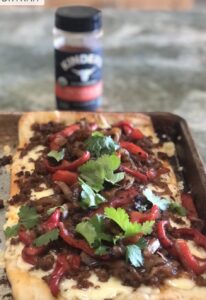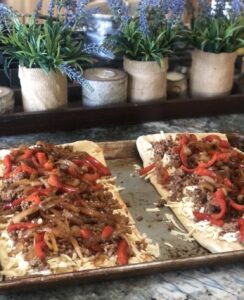 We typically don't eat out for lunch very often and eating sandwiches every day can get old, so I was on a mission to find an easy and quick lunch for the ranch crew. Flatbreads are the way to go. Stonefire ready to go artisan flatbreads are sure tasty and great option for lunch. This dish is also good for using leftovers. You can make an extra helping of taco beef mixture the night before and have it ready to go for lunch. It looks fancy, yet easy to assemble!
Ingredients:
Stonefire Artisan Flatbread (2 in one package)
1 lb 3T Ranch grassfed/grass finished ground beef
1 red pepper – thinly sliced
1 medium onion – thinly sliced
1 tablespoon – Kinder's Taco Seasoning with Lime and Ancho Chili (Costco purchase, no sugar and the ancho chili adds great flavors)
3 cups PepperJack Cheese – shredded
1 tablespoon cilantro
Directions:
Preheat oven to 425 degrees – convection mode
Sauté ground beef with 1 tablespoon of taco seasoning. Move to a bowl.
Sauté onion and peppers for about 15 minutes. If your onions are getting too brown, pour in 2 tablespoons of water. Great trick to have nicely sautéed veggies.
Shred the cheese
Place flatbreads onto a large cookie sheet
I wanted the flatbreads to look pretty, so I have layered the cheese first onto the flatbreads, then taco mixture and then peppers and onions.
Bake for 15 minutes.
Sprinkle with cilantro for color.
Now, that is a wow lunch in just few minutes!