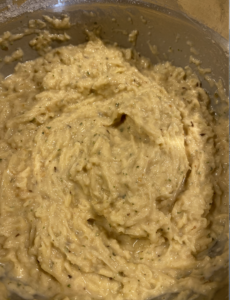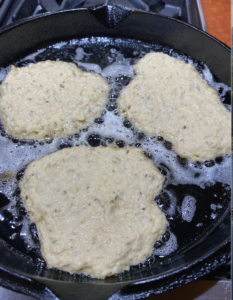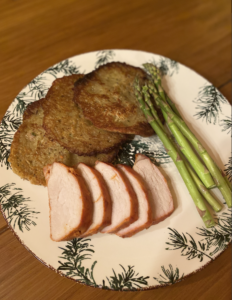 This side dish will be your new favorite! Garlicky potatoes that are fried.. yep, really tasty!
Ingredients:
2 lbs potatoes
2/3 cup flour
1 egg
1/2 cup hot milk
6 cloves of garlic (freshly pressed)
1 tbsp majoram (dried)
1 tsp caraway seeds (crushed)
2 tsps Lowry's salt seasoning – regular salt would be ok too
Avocado oil and grassfed butter for frying
Directions:
Peel potatoes and finely grate them. Let them sit for a couple of minutes and drain the excess water.
Heat the milk until it gets hot and pour over the grated potatoes, stir.
Important step.. garlic. It has to be fresh, no tube, no jar, no powder.. fresh garlic makes this dish amazing. Peel and press garlic.
Add garlic, flour, eggs, marjoram, caraway seeds and salt. Stir to combine.
Heat up cast iron pan, let it warm up and drizzle little bit of avocado oil and little bit of butter.
Scoop 1/4 cup of batter and pour into the pan. Use a spatula to flatten the pancake.
Fry for about 2-3 minutes on each side on medium/low heat.
Serve quickly while still crispy and warm.
Notes:
Caraway seeds should be in your pantry. Next time you are making mashed potatoes, put a little bit of caraway seeds into the pot while boiling the potatoes. You would be surprised how much flavor that will add to your mashed potatoes.