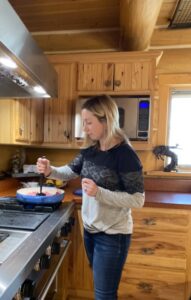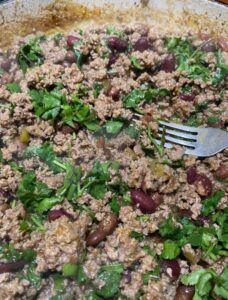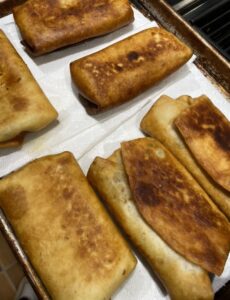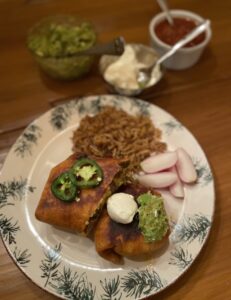 Time sure goes fast. We have been at our new Wyoming ranch for almost three months and I'm happy to report that we are settling quite nicely. My kitchen is all set up and I can start producing some new tasty recipes! We have had a couple of weeks of really cold weather, colds and runny noses. I guess we are getting used to the new "Wyoming germ". 😉 We have spent a lot of time inside the house, so we have baked many cookies, brownies and cooked tasty dinners. Here is one of them – Ground Beef Chimichanga.
Ingredients:
2 lbs grassfed/grass finished ground beef
1 packet Mild Chorizo Spice Blend (similar packet to taco seasoning)
1 can (4 oz) of diced green chile peppers
1 can (15 oz) drained black beans
1 bunch cilantro – chopped up
1 (10 0z) Queso Fresco Milk Cheese – shredded
9 burrito sized tortillas
2 cups canola oil for frying
3/4 cup water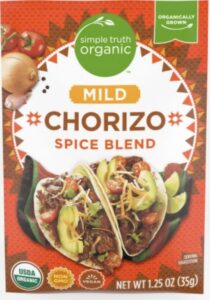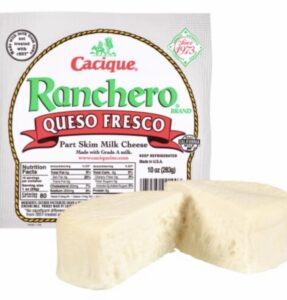 Directions:
Cook ground been in a large pot, so all of the ingredients can fit.
Mix in one packet of the chorizo seasoning and 3/4 cup of water, let it cook for about 5 minutes on low heat.
Stir in beans, green chile peppers and cilantro, cook for a couple of minutes.
Grade the cheese, turn off the heat and incorporate the cheese with the meat mixture.
In the meantime, heat up your oil in a large dutch oven. You want 1/2 of the burrito to be submerged in the hot oil.
Set out your burrito tortillas and put meat mixture in the middle of it. You don't want to over stuff it. Roll as you would with a burrito.
Put in two burritos at a time into the hot oil and cook for about 1 minute on one side and 30 seconds on the other or until gold brown. Start with the seam side down, so your burrito will close up.
I have served the chimichanga with Spanish rice, guacamole and sour cream.