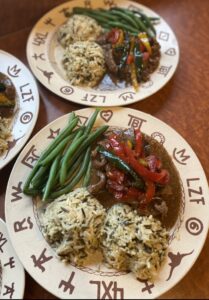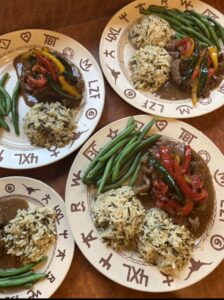 We have had a busy Wyoming spring so far! Setting up our new ranch, calving and our new business venture a hunting operation! 3T Ranch hunters are treated to some amazing meals, including our grassfed/grass finished beef, during their stay while hunting on our ranch. One of the recipes is Grassfed Round Pepper Steak. My family loves being the new menu testers. If it is approved by them, it will be a hit!
This meal will be great for cold fall/winter evenings when the hunters come back to their cabin after hopefully a successful big game hunt. But, you never know.. it is end of May and it is snowing in Wyoming?! So, all year long dish!
Ingredients:
2 grassfed round steaks
1 red and 1 yellow peppers
1 poblano pepper
1/2 onion
5 garlic cloves, finely chopped
1 packet of onion soup mix
1/2 cup of grassfed beef stock
Optional: crispy onions as garnish (store-bought)
Directions:
Cut the steak into thinly slices, it helps when it is still partially frozen.
Cut peppers and onion into thinly strips.
Put steak, onion soup mix, beef stock and onion into an InstantPot. Set on manual/high for 20 minutes, natural release after 10 minutes.
Saute peppers and garlic in cast iron pan for a nice char. Since the beef is nicely tender, the crunchy peppers will add a nice contrast.
I have served the meal with wild rice and steamed green beans.