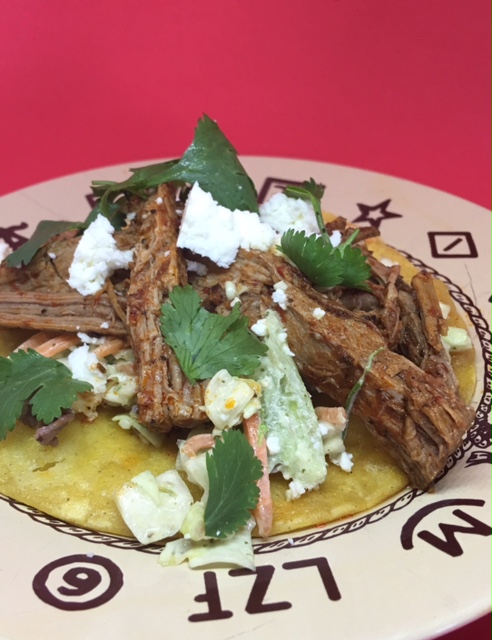 I enjoy watching the FB cooking videos, it gives me ideas on what to cook for my family. Last weekend, I have seen a tasty looking Mexican Beef Barbacoa. Our family likes beef and we like Mexican food, so I had to try it out. It came out delish and it is definitely on our dinner rotation list! I have made a few tweaks to suit our family's taste buds, but the core of the recipe was awesome. My Cowboss is on a roll to decrease the amount of sugar we eat, so I have omitted the sugar in this recipe all together.
Here is the link to the original recipe and below you can find our tweaks and tips!
Ingredients:
4 Chile De Ristra (mild) – dry chile peppers – The original recipe calls for a couple of different chile peppers, but I was only able to find Chile De Ristra at our grocery store. It was a great substitution. (soaked, stemmed and seeded)
1 (3 lb) beef chuck roast – I have used Eye of the Round Roast – this type of roast is very lean and great for this recipe as it has to cook for some time.
Salt and Pepper
4 tablespoons olive oil, divided
1 chipotle in adobo
6 garlic cloves, minced
1 tablespoon cider vinegar
1 tablespoon salt
1/2 tablespoon pepper
1 tablespoon dried oregano
1/2 tablespoon ground cinnamon – I have increased the amount of the spices. You need flavor, don't be afraid of it!
1/2 cup water – I have used the water that was left over from my Chile De Ristra soaking
Directions:
Place dried peppers into a bowl or jar and fill with water until covered. Soak for 20 minutes until softened.
Bring the roast to room temperature – about 30 minutes. Season roast with salt and pepper. Heat a large cast iron pot over high heat. Add in 2 tablespoons olive oil. Sear roast on all sides. Once seared, remove pot from heat and set aside.
In a blender, add in Chile De Ristra peppers, chipotle, garlic, cider vinegar, salt, oregano, cinnamon, remaining 2 tablespoons olive oil, and water. Blend until smooth, adding more water if necessary to thin it out enough to blend.
Pour sauce over chuck roast in the crock pot or insta pot. See specific directions for the crock pot or insta pot below.
Shred and serve. If you are using Eye of the Round Roast – thinly slice the meat after you are done cooking the beef and put back into the sauce. The beef will absorb a good amount of the sauce and it will be nice and tender.
Notes
CROCK POT: Place seasoned roast in a crock pot. Make sauce according to directions and pour over meat. Cook on high 6 hours, or low 8 to 10 hours. Thinly slice the beef and put back into the sauce for another 20 minutes.
INSTANT POT: 3T's preferred method. Use the sear setting to sear seasoned roast. Make sauce and pour over meat. Cook on the beef/stew setting for about 70 minutes. Take out, thinly slice the meat, put it back into the insta pot and let it cook for another 5-10 minutes on the sear setting. Make sure to stir around and don't walk away!