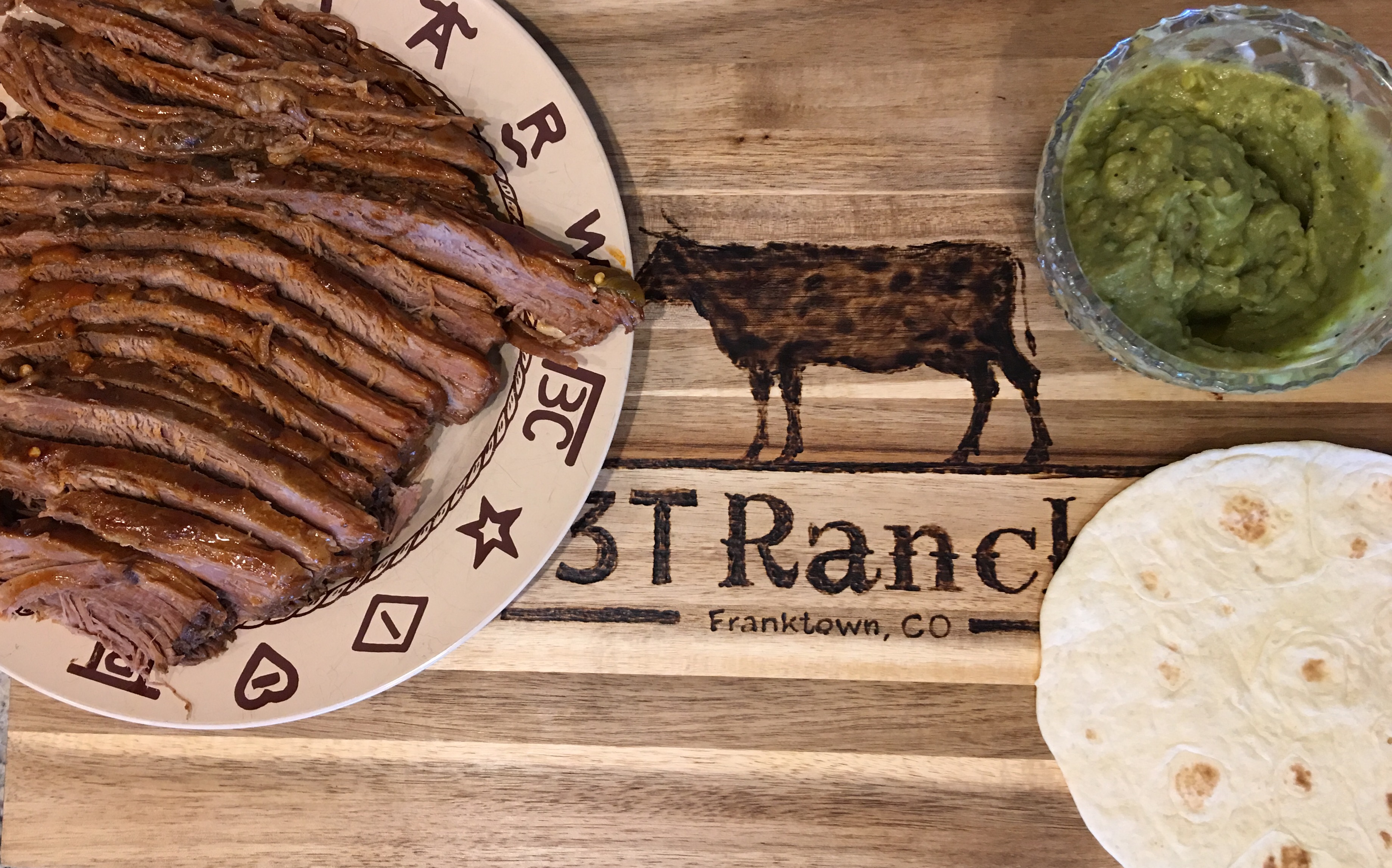 This recipe was so good. Our family ate the whole brisket last night for dinner. I have made this dish for my cowboys the day came home from hunting. They are not exactly roughing it when they go hunting as the cabin is quite comfortable, but I wanted to have a nice dish ready for them. We did miss them and were happy to have them home.
They came home, shared their hunting stories, took showers, wanted a quick grilled cheese sandwiches and hit the bed. Well, change of plans! Brisket will be served the next night, when they can keep their eyes open.
This recipe came from the Pioneer Woman. I was catching up on her cooking show while the guys were away. It is delicious. We typically smoke all of our roasts, especially brisket, but I had to try this recipe. We have all licked our fingers and ate it all!
Ingredients:
3T brisket
2 sliced onions
1 head of garlic – just peel it
2 teaspoons ancho chile powder 
Kosher salt and freshly ground black pepper 
Two 15-ounce cans red enchilada sauce (We like Hatch brand). 
1/2 cup water (Check half way through, if your sauce needs more liquid).
Directions:
Put the garlic and onions into a 6-quart slow cooker.
Place the brisket on top.
Sprinkle over the ancho powder and 1 teaspoon each salt and pepper.
Pour in the enchilada sauce.
Cover and cook on low until the meat falls apart, about 8 hours.
Check your liquid and add water, if necessary.
I have sliced the meat vs shredding it. We like the texture of the beef better.
I have served the beef with Mexican style rice, flour taco tortillas, guacamole, salsa and cheese.
Dobrou chut!