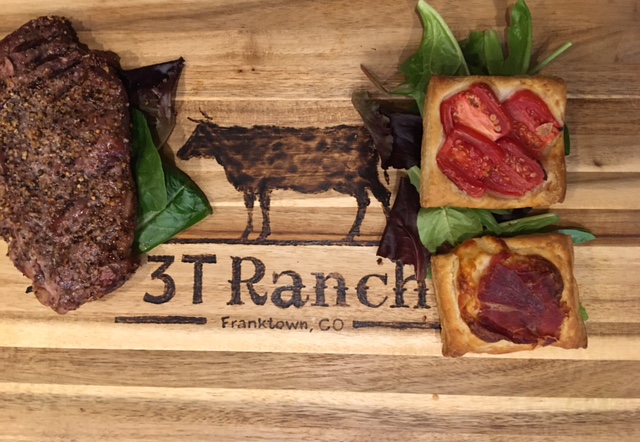 Our freezer has beef soup bones and T-Bone steaks left. It shows that we don't like sharing our T-Bone steaks that much, they are too tasty. I'm counting down the days when our freezer will be restocked again.
It is the middle of the week and the Cowboss felt like grilling. Can't blame him, the weather has been so nice, not as hot, but warm enough to enjoy our summer evenings outside. He grilled our T-Bone steaks to perfection. I made "potato boats" as the Easton Clan calls them. They are really twice baked potatoes, but I go with the Easton tradition and call them potato boats. I also wanted to try a new side dish – puff pastry tart. Our greenhouse is producing tomatoes left and right and I wanted to use them up in a different way than just in a salad. I have recently made peach tarts and they were hit, so I thought, why not a savory tart.
So, here goes the recipe for Tomato and Serrano Ham Tarts. Perfect addition to our tasty dinner.
Ingredients: 
1 defrosted sheet of puff pastry
2 tomatoes (I have used Roma as they were the perfect size for the tartlets) – sliced
9 tablespoons of cheese of your choice – shredded – I have used Gruyere
5 slices of Serrano Ham – sliced
salt & pepper
Directions:
Pre-heat oven to 400 degrees.
Defrost the dough – use instructions on the box.
Unfold your dough and cut into 9 squares (tip: pizza cutter works well on this)
I did 4 tomato and 5 Serrano ham squares.
Sprinkle each square with 1 tablespoon of shredded cheese.
Top with sliced tomatoes or cut up ham.
Put squares on a cookie sheet lined with parchment paper.
Bake for 20 minutes.
Sprinkle the tomato squares with sea salt.
Dobrou Chut!