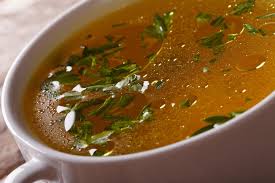 The weather is getting colder, well at least on the 3T, and the leaves are starting to change. Our favorite part of the year. Cool temperatures mean jeans, cowboy boots and long sleeve shirts, our choice of attire. Well, we kind of wear that in the summer as well to avoid sunburns while working outside, but this weather makes it more comfortable. You learn very quickly to cover up during the summer months while fixing the fence.
It also means that we are in the "crock pot" and more recently "instapot" cooking season. I have recently purchased an instapot and so far I have been impressed. Still playing with new recipes, but hoping to post a few good ones soon.
Good hearty soup and sauce can't go without a good broth. You would be surprised how easy and delicious it is to make your own broth. I think there is a big difference in the store-bought and homemade broths. I only use beef soup bones, celery, carrots and water. I don't include any salt or pepper. This gives me a tasty broth and I can later season the soup of sauce I'm making without the worry that something will be over salted, yet I'm getting the deep and rich flavor of the broth.
Storage: I pour my cooled down broth into quarter size plastic jugs and put it into our freezer. I also use ice cube trays. Sometimes I just want a little bit of broth and two ice cube size portions are just right. Once the broth has been frozen in the trays, pop them out and store in a freezer safe plastic bag.
Leftover meat and veggies: You will end up with really mushy veggies. I usually discard them, but right now our 10 month old little cowboy totally digs the soft veggies for dinner. You will also end up with a little bit of tender meat. Again, great baby food for older babies or you can use it in hearty soups. Don't feel bad, if you just keep the broth and toss everything else. The goal is to make the broth.
Ingredients:
3 packages of 3T Ranch beef soup bones
1 lb of celery stalks – chopped up
1 lbs of carrots – chopped up
10-12 cups of water – you can do more or less, depending of your likings
Directions:
You don't even have to defrost the bones. Just unwrap and put the bones into the crockpot.
Chop up your veggies and throw into the crockpot.
Pour 10 cups of water into the crockpot.
Cook on low for 6-8 hours. Check on your water levels throughout cooking. I have added 2 cups of water about 1/2 through cooking.
Dobrou Chut!